Technical support service of
Fabbrica company
has organized another seminar for her associates from the wood industry sector.
The aim of the seminar was to get acquainted with the manner of business of Fabbrica company, a large selection of products for various purposes that are available on our standard stock, technical support we provide to our associates, as well as various possibilities and new trends in interior design.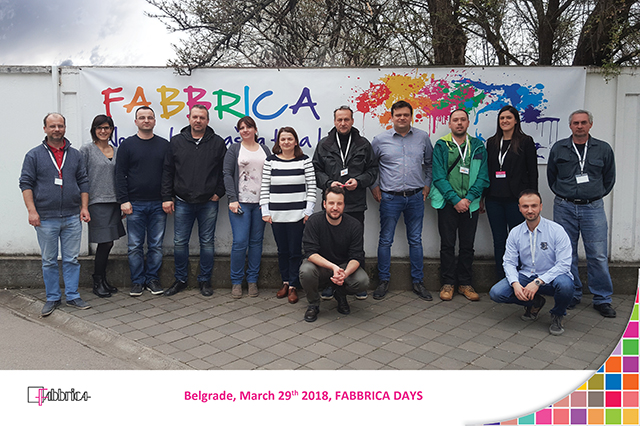 During the presentation, emphasis was placed on technical support provided by Fabbrica company to its associates in all segments of the realization of a project: from defining and developing ideas to practical testing of materials, implementation in their production and monitoring the implementation of orders up to the assembly itself.
On this occasion, it was especially emphasized that our work system is based on offering the best solutions according to the defined requirements, with additional information on possible alternatives, which can reduce costs, accelerate drying, simplify the production process and the like.
Dear guests were aware that our regular practice involves informing our clients about the possibility of using new or existing materials, which can improve the surface treatment system in a certain segment.
In addition, important topics related to: correct preparation for the painting process, the importance of adequate selection of the appropriate cycle of work and the application of the coating system, the drying time between the layers, working conditions, storage of the elongated elements, and their laying and packaging.
Presentation of the complete sales assortment, with particular reference to certain specific types of coatings, was an indispensable segment of this seminar. Particular attention was given to the characteristics of each group individually, the advantages and limitations, as well as the large number of different products, whose combination can produce the desired final effect of surface treatment.
Since the production of our customer is mostly used in polyurethane coatings, this part is further elaborated and additional valuable experiences related to the application of these products are exchanged in addition.
Special emphasis is placed on different types of catalysts from our assortment, whose application is recommended in combination with appropriate resins (substrates and finishes) depending on the final effect to be achieved.
On this occasion, the most common problems that can arise in the work with polyurethane coatings, and especially about the measures that can be taken in order to eliminate the possibility of occurrence of the problem, are also discussed. Particular emphasis is placed on the importance of using adequate solvents and their impact on the quality of surface treatment.
At the end of the presentation, a segment of aquatic varnishes, new generation coatings, which are increasingly used in production due to their simple application and their advantages related to a healthier work environment, are additionally processed.
Various groups of water coatings for the interior are presented in a transparent and pigmented cycle, their possibilities, and above all the advantages compared to conventional coatings.