Posted on 28-07-2017
SPECIAL SERIES OF POLYURETHANE COATINGS IN HIGH GLOSS
Following the needs of its clients,
Fabbrica company
has introduced into its sales program a new series of high-gloss varnishes, from Renner Italia range, at very competitive prices.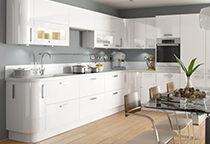 NEW SERIES OF POLYURETHANE COATINGS IN HIGH GLOSS had following features:
Good coverage,

Excellent leveling,

Different shades available (prepared according to standardized color charts: NCS, RAL, as well as according to customer request),

Very uniform shade and gloss level on treated surfaces,

Stability of pigments,

Good mechanical characteristics,

Polishing options,

Extremely competitive price.
In order to prepare the varnishes, from a new product series in high gloss, for application, it is possible to use different catalysts depending on the desired final effect that has to be achieved on the treated surfaces.
We use the opportunity to invite you to test a new series of polyurethane coatings in high gloss and make sure they are the ideal choice for your production!
For all additional information, please contact Fabbrica technical service.