"SILVER DEFENCE" – NEW PRODUCT LINE WITH ANTIBACTERIAL PROPERTIES
Fabbrica offers to its customers the option to be supplied with coatings of special product line "SILVER DEFENCE".
The aforementioned coatings are a group of materials with specific characteristics, and can be ordered exclusively at the request of the customer and the specific requirements that must be met.
During creating of this special product line, Research and Development department of Renner Italia company focused on human health and environment.
BASIC FEATURES
Water-based and synthetic-based "SILVER DEFENCE" antibacterial lacquers contain silver ions, which act as disinfectant when applied to wooden surface.
The mechanism of action of a product of this line, reflected in a direct contact with a broad spectrum of microbes and bacteria, wherein it prevents the growth and reproduction.
Mentioned microparticles in contact with a broad spectrum of germs and bacteria inhibit their growth and reproduction.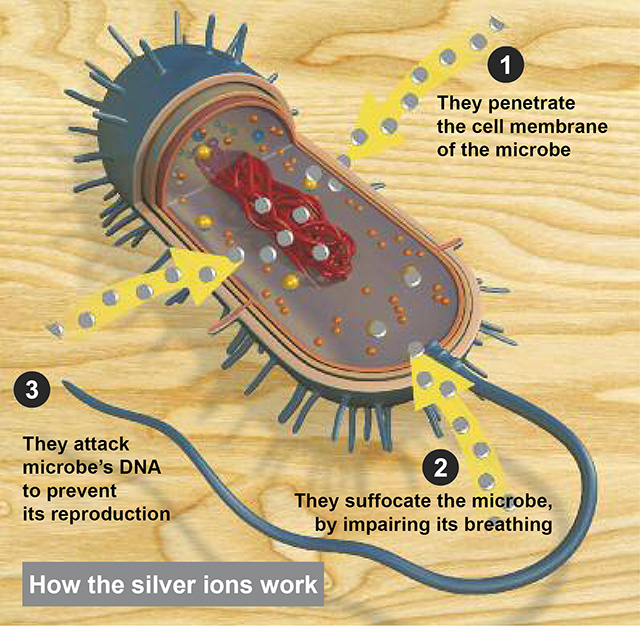 Silver ions can not be removed by cleaning wood surfaces because they are trapped within the crystal lattice of the coating. Because of its mineral nature and inability to evaporate "SILVER DEFENCE" ions remain unchanged over time, which ensures their long-term disinfection characteristics.
FIELD OF APPLICATION
Thanks to microbiological protection provided by the treated surfaces, antibacterial varnishes are particularly suitable for use in the furniture and other wooden objects where high standards of hygiene are required.
Silver defence product line is especially recommended for surface protection of elements that are intended for use in the following environments:
PUBLIC SPACES WITH SPECIAL HYGENIC CONDITIONS, BECAUSE OF SPECIFIC SERVICES THAT THEY PROVIDE:
hospitals, laboratories, dental clinics and other health care facilities;
kindergartens and schools;
swimming pools, saunas and beauty salons;
premises where food is prepared (restaurants, kitchens, bakeries, bars, etc.);
grocery food, fruit and vegetables.
PRIVATE SPACES THAT HAVE SPECIAL HYGIENE REQUIREMENTS TO PREVENT THE SPREAD OF BACTERIA, AND PROMOTING HEALTH STANDARDS:
children's rooms, bathrooms and kitchens;
wodden floors;
boxes and baskets for pets.
BENEFITS FOR USERS
Antibacterial coatings (transparent or pigmented) have the following important characteristics:
ease of application – exactly the same as all other coatings for surface protection;
same properties as the standard coatings for surface protection: hardness, transparency, stability, thixotropy, as well as chemical and mechanical resistance.
For additional information please contact Fabbrica Technical Service.