Abrasives and sanding tools
FABBRICA is the distributor of the
MIRKA Ltd
company, renowned Finnish manufacturer of abrasives and sanding tools for wood industry.
CERTIFICATES
SERTIFIKAT – ISO 9001
SERTIFIKAT – ISO 14001
SERTIFIKAT – OHSAS 18001
ABOUT THE COMPANY

Mirka Ltd is a company specialized in producing high quality abrasive products.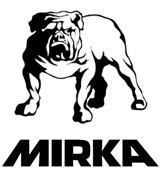 This company was founded in the forties of last century. Long term investments in research and development resulted in a significant increase in exports of the sixties, when growth of the company begins, building a modern factory and its international expansion and constant improvement.
MIRKA is modern global company, member of a large KWH group comprising 40 operating companies worldwide.
Business policy can be defined as a constant struggle for improvement, systematic investment, careful planning, the ability to take initiative and openness to new and unique solutions.
ABOUT THE PRODUCTS

Mirka Ltd offers a wide range of features of abrasive products for various purposes, complete solutions for specific abrasive systems, accessories and more.
The products of this company are well known for their superior quality and exceptional durability. They are manufactured under the supervision of highly professional staff in a modern production using advanced methods.
Principles of environmental efficiency are the main guidelines for the selection of raw materials production and planning their future structure.
It is important to note that the company MIRKA gave birth to the first idea about the system of dust-free grinding that has been successfully implemented. As pioneers of the new concept of surface treatment with a constant investment in research and innovation, they set high standards for all vendors in the marketplace.