One of the most important goals of
Fabbrica company
is the timely information of customers and business associates on products whose application can improve and facilitate some of the production segments.
Like every January, we started a new cycle of educational seminars, within the FABBRICA DAYS project, in order to introduce our distributors first and foremost to all the novelties that we can put together on the market.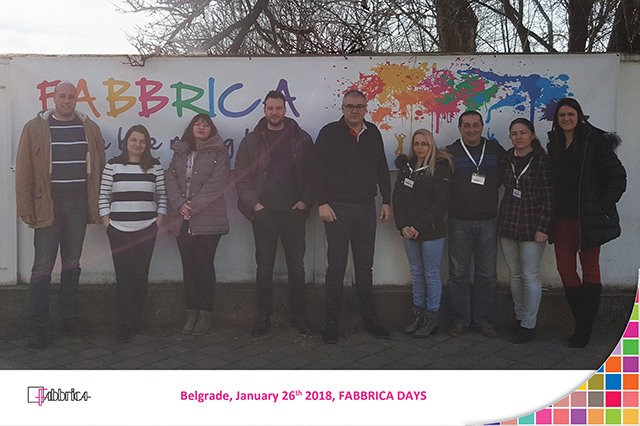 During the seminar, all materials for surface treatment and decoration of wooden surfaces, as well as special, new and technologically advanced coatings, are unique in the domestic market. Our goal was to present in particular the characteristics of all the improved products we offer, highlight their advantages, purpose and quality.
Additionally, new lines of products that we offer to the market at extremely competitive prices are presented additionally, and whose application can achieve significant savings especially in large, serial operations.
On this occasion, the coating for protection of the exposed surfaces "Protective foil", has attracted the greatest attention.
It is a revolutionary product that is sprayed on a completely dry final coating (lacquer or paint) that forms a barrier (protective coating) during drying, which additionally protects the coating from possible damage that can occur during the transport and installation of lacquered elements.
Depending on the amount of coating applied, the formed layer has a smaller or higher thickness. After application, the coating layer ideally adheres to the surface, regardless of its appearance (the presence of cannulae, scallops, towed parts, and the like). The shaped protective film is easily and easily removed, and the exterior surface need not be further cleaned.
In the Fabbrica Training Center, all participants had the opportunity to follow a demonstration of work with coatings that were their subject of interest, with the possibility of consulting with our application technicians. On this occasion, discussions were focused on factors that most often influence the appearance of certain problems and irregularities on the treated surfaces, as well as the way they can be overcome.
After the presentation, it was subsequently discussed about everything presented, as well as about the possibilities of improving the work in order to achieve the best results in applied cycles of surface protection and decoration.