Business policy
The close and open cooperation with the clients has always been the main characteristic and the important factor of our business.
Direct dialogue, with the aim to understand the clients' expectations in all segments from the start, helps us to give the adequate information, support, service and quick and efficient delivery.
We always try to give several solutions to the specific request. Thus, we help that the wishes and possibilities are coordinated in the best possible way.
The important part of the business policy of the firm is to give the best quality, so that each client gets what he was pointed out and suggested, as well as, that the provided quality in all segments be actively improved and made better.
The satisfied client is the objective of our thinking and actions.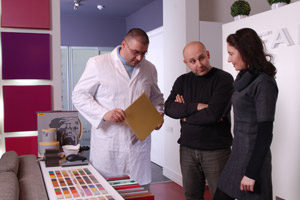 We have never been fully satisfied and we actively try to improve. We set high standards for ourselves, the quality, product diversity and we care about nature and clean environment.
We are consistent in the fight for quality, reliability and trust.
The workers are the most important in the system of values. We want to support and motivate the workers to grow and develop with us, and at the same time to achieve their own professional goals.
Our mission is to create the educated and highly professional staff with the practical experience, the staff that is focused on market needs and committed to constant and unselfish customers support.
We have the specific way of working and cherish the company values that are very important for the business. We constantly adapt to the changing world around us.
Only if we lead the way, we know we can make difference and be better.
Our business philosophy can be described as the constant search for innovations, improvements, careful planning and finding the ways to give the unique solutions in the business.
Constant progress is the long-range aim of our business.