In order to improve cooperation with its customers and associates,
Fabbrica company
has continued with presentations organization, in order to present new products from its own sales range.
Team of technologists and technicians, specialized in the segment of surface protection, has organized another successful presentation for its customers, precisely, employees engaged in the segment of wooden surfaces preparation for painting, but also painting of various elements in the interior.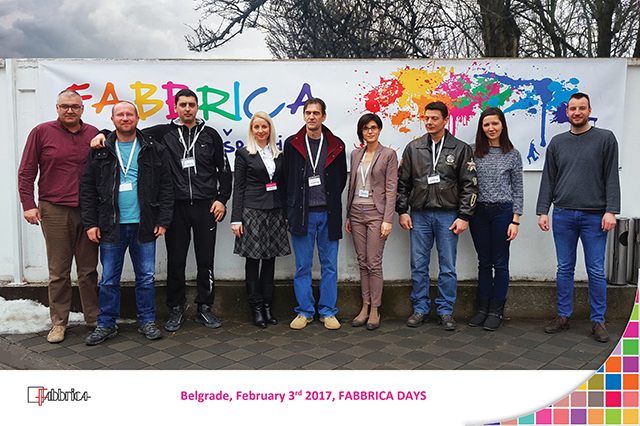 During the presentation, briefly were presented coatings for different substrates protection and decoration, with special emphasis on the numerous specific requests that come from the customer productions. In addition, there was also discussion about : proper preparation for the painting process, adequate coating application, selecting the appropriate coatings cycle, drying time between coats, working conditions, storage of lacquered elements and their stacking and packaging.
In addition to the wide range of products that were presented on this occasion, the greatest interest was shown for the following items:
acrylic self -sealer for open pores system, as well as all possibilities of its application

polyester basecoat, which provides good filling of lacquered surfaces

new special effects from sales range

touch up product line for reparations and restorations
During the practical part of the presentations, all the services provided by Fabbrica technical support department were presented, but also a high level of quality control of products that are prepared according to the specific customer request.
In addition, the training for the use of different types of coatings was arranged. Different application techniques were demonstrated in order to simplify and facilitate the achievement of the desired effect on the treated surfaces.
On that occasion, acrylic self-sealer was also tested, individually, but also in varnishing cycles with different types of patina ( water based, synthetic, metallic ) on different substrates, in order to present all of its features, as well as the fields of application in the best way.
Also, once again it is emphasized that Fabbrica Technical Service is at disposal to its customers for recommendations of varnishes, the complete cycles of surface protection in the interior, as well as additional testing and presentation of work with new materials with specific characteristics.
At the end of meeting, it is especially emphasized that Fabbrica company Sector for the development, regularly monitors all actual trends and new tendencies in interior design, the development of new technologies for the coatings formulation etc., in order to always offer its associates something new, innovative and unique in the local market.