Posted on 26-01-2018
NEW COLOR CHART – METALLIC EFFECTS WITH TEXTURE
NEW VARNISHES SERIES FOR DECORATION OF FURNITURE
AND INTERIOR DECORATION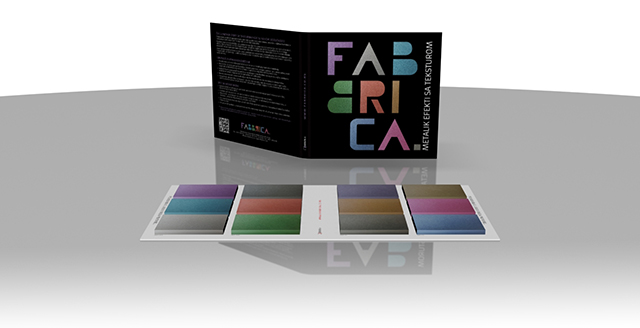 Following the current world trends in the segment of surface protection and interior decoration, company Fabbrica prepared for its clients NEW COLOR CHART – METALLIC EFFECTS WITH TEXTURE.
These products represent unique coatings for interior elements decoration. Their formulation provides opportunity to achieve a very specific effect on treated surfaces in different shades.
The tones from this color chart are obtained by using special pigments that contain metal particles and a texture effect. After application, result consider an unique and attractive appearance on varnished elements. In addition, the surfaces treated with this coating have improved mechanical properties.
The pallet of shades tones of metallic effects with texture provides users many possibilities in interior design and decorating, as well as an additional option of combining various substrates that can be treated. Metallic effects with texture can also be used for metal decoration with the required use of the appropriate primer.
These products belong to a group of professional coatings intended exclusively for industrial use.
Technical service of Fabbrica company, with the help of contributors who helped realization of this demanding project, is able to offer its clients a unique palette of tones that is very attractive.
FABBRICA COMPANY OFFERS NEW COLOR CHART AT VERY COMPETITIVE PRICE.

For all additional information, Fabbrica technical service is at your disposal.