Posted on 21-05-2018
RED DOT AWARD TO MIRKA FOR GROUNDBREAKING DESIGN
We are happy to announce that new electrical wall and ceiling sander, Mirka® LEROS has received the Red Dot: Best of the Best Award 2018 for groundbreaking design.
The Red Dot panel of experts awards this internationally recognized seal of quality only to the best products in a category. "Winning the Red Dot: Best of the Best is the well-earned recognition for excellent design performance. The awarded products are all characterized by an innovative symbiosis of aesthetics and function. The fact that such a small number of entries received the top distinction is proof of the rigorous nature of the judging criteria applied in the competition. I want to congratulate the laureates very sincerely on their success", says Professor Dr. Peter Zec, founder and CEO of the Red Dot Award.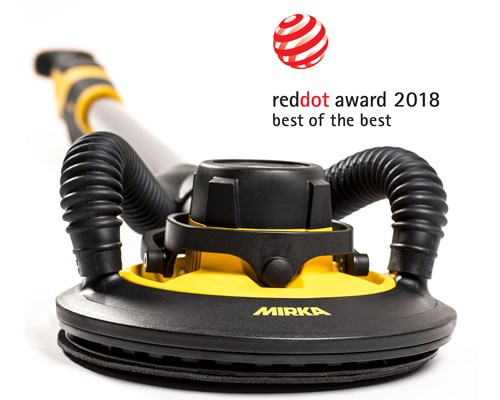 "We are very honored and proud of this prestigious recognition. There are years of determined development work behind Mirka LEROS. There was a clear market need for a light and ergonomic wall and ceiling sander. The high demand that we can see today and the continuously growing sales figures are clearly showing that we managed to answer the market need and develop something that will revolutionize the market", says Mirka's CEO
Stefan Sjöberg
.
Mirka LEROS is the lightest wall and ceiling sander on the market with a flexible sanding head and a brushless motor, which are all contributing to the user-friendliness of the tool. The tool has been design in co-operation with the Swedish design company Veryday and ergonomics has been the key focus area when developing the tool.



The Red Dot Award: Product Design has roots dating back as far as 1955 and determines the best products created each year. In 2018, designers and manufacturers from 59 countries submitted more than 6,300 objects to the competition. The strict judging criteria, which include level of innovation, functionality, formal quality, ergonomics and durability, provide a frame of reference which the jurors then complement with their own expertise. The Red Dot: Best of the Best is received by only 1% of the entries.
Find out more about Mirka LEROS on:
www.mirka.com/mirka-leros