Posted on 19-06-2017
RED DOT DESIGN AWARD 2017 FOR WIRELESS SANDER MIRKA® AOS-B
The Mirka Power Tools unit continues to set the pace for innovative design, powerful performance and clever features. The smallest battery driven spot repair sander on the market, Mirka AOS-B 130NV, designed in collaboration with the Swedish design company Veryday, has been awarded for high quality design in the discipline Red Dot Award: Product Design 2017.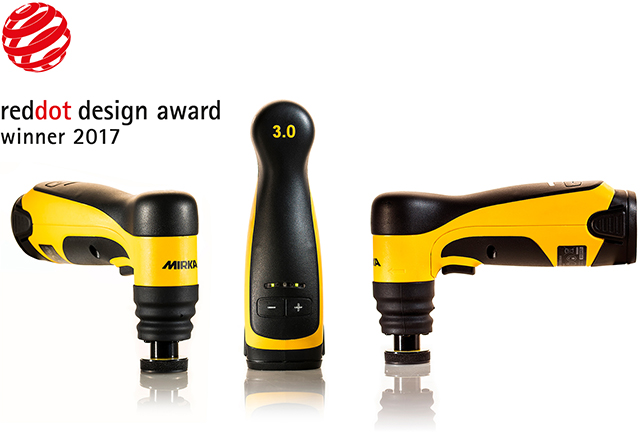 The ergonomic design has been a priority and makes the sander easy to move from job to job and allows users to operate the product for a long period without fatigue, while delivering good control over the sanding process. The small and ergonomic tool also provides economical and consistent performance for the duration of the sander's battery life, which can last up to 16 hours when used for spot repair applications.
Mirka´s smart electric sander, Mirka DEROS, launched in 2012, was awarded with the "Red Dot Industrial Design Award" in year 2014. The compact Mirka DEROS sander was the first ever electric sanding machine with a brushless motor and no external power supply. Mirka DEROS is still the smallest electric random orbital sander on the market.
The internationally organized competition "Red Dot Design Award" appraises the best products of the year. In order to appraise the diversity in the field of design in a professional manner, the Red Dot Award breaks down into the three disciplines of Red Dot Award: Product Design, Red Dot Award: Communication Design and Red Dot Award: Design Concept. With its origins dating back until 1955, the award is organised by Zentrum Nordrhein Westfalen and is one of the best-respected design competitions in the world.